I teach Luna Yoga Seminars all over the world, mostly in German. I happily switch to English, French, Spanish or Italian if someone with another mother tongue is in the class.
You are cordially invited to write an e-mail to me:
Adelheid Ohlig

To learn more about the beginnings of luna-yoga see my article in "Stories from the Yogic Heart" edited by Lisa Miriam Cherry:
www.yogicheart.com
For further information read my book: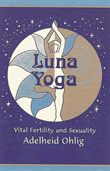 Luna Yoga – Vital Fertility and Sexuality,
Ashtree Publishing, Woodstock, New York, USA
::::::::::::::::::::::::::::::::::::::::::
My book
"Bewegte Frau" i. e. "Woman in motion" will be translated and published in the near future:
Woman in Motion
Luna Yoga for Health and Vitality

"Movement is the song of the body. When we make an effort to follow the song, we discover the beauty that is part of nature."
Adelheid Ohlig, the originator of Luna Yoga, introduces fifteen exercises for each of the four seasons.
The moon, luna, reminds us of how the nature of life is constant transformation. You can use these exercises as you pass through the various stages in a woman's life (youth, maturity, pregnancy, menopause, old age) to remain healthy and in harmony with the world. The movements and postures teach you how to better understand your body's signals. Whether menstrual cramps or menopause symptoms, digestive problems or stress: the exercises open up a new path to healing and help you improve your relationship with your body. "Woman in Motion" inspires you to greater vitality and creativity.
Adelheid Ohlig's work as a journalist brought her into contact with a wide variety of cultures with diverse healing traditions around the world. Confronted with a serious illness, she decided to delve deeper into natural forms of healing. Drawing on classical yoga, Aviva Steiner's menstruation exercises, and other bodywork and movement therapies, Luna Yoga grew out of one woman's quest to activate her self-healing powers.
Ohlig conducts yoga seminars throughout Europe and trains Luna Yoga teachers and trainers. Several of her books on Luna Yoga have been translated into different languages. For more information, visit www.luna-yoga.com.
Other publications in german language
You find a list of teachers, classes and seminars in
www.luna-yoga-netz.eu